A tribute to the spirit of enterprise and adventure.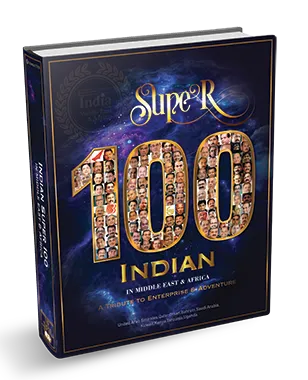 The Indian Super 100 Volume I profiles the leading 100 entrepreneurs, businessmen, and professionals from India in the Middle East and Africa. A classic coffee table book, it is a world standard publication that has exceeded all expectations and serves as a beacon of hope and confidence for future generations of entrepreneurs and achievers. The launch of the book was also a phenomenal success and it was personally released by The Honorable Minister for External Affairs, Smt. Sushma Swaraj, on her visit to the UAE in November 2014.
Official Release 12th November 2014 .
Ritz Carlton , DIFC, Dubai , UAE .

From L-R , H.E. Consulate General of India to UAE – Mr. Anurag Bushan, Editor & Publisher Mr. Biju Ninan, Honourable Minister of External Affairs – Government of India -H.E. Smt. Sushma Swaraj, Mr. Issac John – Associate Business Editor of Khaleej Times, Mr. Vijay Jolly, H.E. Mr. T. P. Seetharaman – Indian Ambassador to UAE.
Indian Super 100 is a shining example of the capabilities of the Indian Entrepreneurial spirit…
Honourable Minister of External Affairs, Govt. of India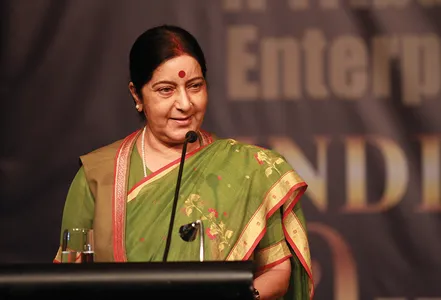 Further, the Indian Ambassador to the UAE and the Consul General of the region endorsed the fact that 'The Indian Super 100′ and the exclusive group of profiles that it covers are a clear benchmark of the success of Indian entrepreneurship in the region and the book itself could be seen as a window to all the success that is possible by the Indian diaspora.
Today 'The Indian Super 100′ has become an elite and exclusive group who make a mark by participating in nation development back home in India and in social causes to help their fellowmen in their respective countries of work. The 'Indian Super 100′ is also a timeless and valuable referral book, available through prominent libraries, chambers of commerce, business and professional organizations across India, the Middle East and Africa as well as through selected libraries in Europe and the US.The book's reach among strategic socio-political centers gives enormous worldwide exposure to the personalities profiled.